Palatine Nursing Home Visitation During COVID-19 Pandemic
Purpose: The information contained in this directive supersedes and replaces previously issued guidance and recommendations regarding general nursing home (NH) visitation and aligns with CMS and CDC guidelines on such topic. Nothing in this directive should be construed as ...
» Download the Visitation During COVID-19 Pandemic Notice.

(updated March 2021)
Palatine Nursing Home COVID-19 Pandemic Emergency Plan
Purpose: To guide facility leadership adn staff on how to prepare for new or newly evolved infectious diseases whose incidence in humans has increased or threatens to increase in the near future and that has the potential to pose a significant public health threat and danger of infection to the residents, families adn staff of the facility.
» Download the Pandemic Emergency Plan.

Set Grandparents Up With Technology for Less
When you're younger, your grandparents are a source of love, special adventures, and wisdom shared through entertaining stories and memories. As you both get older, however, this relationship begins to change, and sometimes this makes it more difficult to stay in touch.
Fortunately, there's plenty of technology available to make it easier to maintain this special bond.
» Download this article for more information.

Yes, You Can Live It Up in Retirement While Still Being Frugal
The general consensus is that millennials are too eager to spend money while baby boomers are too tight. But what if there was a healthy balance between the two? What if you could live it up in your golden years while still practicing frugality and preparing for the worst?
» Download the You Can Live It Up in Retirement article

for more information.
It is the mission of Palatine Nursing Home to provide quality health care, both long and short term, with compassion and commitment to all who seek our services. Palatine Nursing Home promotes physical, emotional, social, and spiritual well being in a positive, family – like atmosphere.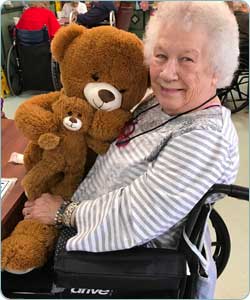 "Where it feels like home and you are treated like family"
History:
Palatine Nursing Home has been a staple in the community for fifty years. Providing skilled nursing services since 1963, Palatine Nursing Home has been dedicated to providing the highest quality services to those in our care. Conveniently located only one half mile off exit 29 of the NYS thruway Palatine Nursing Home's picturesque views overlooking the Mohawk Valley provide our residents the quaint rural atmosphere our community holds dear.
Under new management, Palatine Nursing Home is striving to bring state of the art treatment techniques and services, enhancing the community focused approach we are known for. The Healthcare Professionals at Palatine Nursing Home pride themselves on providing individualized care with the goal of enriching each resident's social, cognitive, and physical well-being.